Title: Crassley, T.
Source text: The Medical and Surgical History of the War of the Rebellion. (1861-65.), Part 3, Volume 2 (Washington, DC: Government Printing Office, 1883), 178, 182.
Civil War Washington ID: med.d2e8214
TEI/XML: med.d2e8214.xml
CASE 369.—Corporal T. Crassley, Co. E, 69th New York, aged 34 years, was wounded at Fort Steadman, March 25, 1865, and admitted to the field hospital of the 1st division, Second Corps, where Surgeon F. M. Hammond, 126th New York, noted: "Shot wound of hip by minié ball." Assistant Surgeon C. A. Leale, U. S. V., reported that the wounded man was admitted to Armory Square Hospital, Washington, April 1st, and discharged from service July 25, 1865, by reason of "shot fracture of upper third of right femur, resulting in one inch shortening." The Albany Examining Board, consisting of Drs. R. B. Bontecou, W. H. Craig, and C. H. Porter, certified, September 11, 1873: "The ball entered near the right trochanter, injuring the bone seriously. Numerous portions of bone were removed. The missile passed deeply through the muscular tissue and escaped near the inner border of the right nates​. The limb is greatly weakened, and occasionally ulcers appear near the entrance wound, owing to necrosed bone." The pensioner died at the National Military Asylum at Dayton, Ohio, January 8, 1876. The immediate cause of his death has not been ascertained. A photograph, taken at the Army Medical Museum in July, 1865 (Surg. Phot. Series, No. 76), is copied in FIG. 2 of PLATE LIX, opp. p. 178.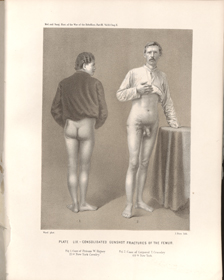 PLATE LIX. — CONSOLIDATED GUNSHOT FRACTURES OF THE FEMUR. Fig. 2. Case of Corporal T. Crassley, 69th New York.