Title: Scott, Pembroke
Source text: Surgeon General Joseph K. Barnes, United States Army, The Medical and Surgical History of the War of the Rebellion. (1861–65.), Part 1, Volume 2 (Washington, D.C.: Government Printing Office, 1870), 105.
Civil War Washington ID: med.d1e6815
TEI/XML: med.d1e6815.xml
SCOTT, PEMBROKE, Private, Co. D, 198th Pennsylvania Volunteers, aged 25, was wounded, in an engagement at Gravelly Run, Virginia, March 29th, 1865, by a conoidal ball, which inflicted a wound in the scalp, three inches in length, across the left temporal and edge of the left parietal bone, and contused the outer table of the latter. He was conveyed to the field hospital of the 1st division, Fifth Corps, and thence was transferred to City Point, Virginia, where he remained in the depot field hospital of the Ninth Corps until the 2d of April, when he was transferred to the Harewood Hospital, Washington, D. C. By April 29th, the wound was doing well and healing kindly, and there were no indications of depression nor compression. On May 16th, he was transferred to the Satterlee Hospital, Philadelphia, Pennsylvania. On June 16th, several small pieces of the outer table of the skull were removed. The patient improved gradually, and was, on the 6th of July, 1865, discharged from service. The appearance of the wound, while the man was at Harewood Hospital, is exhibited in the third figure of Plate III. Scott was pensioned to date from July 5th, 1865. In April, 1866, Pension Examining Surgeon Wilson Jewell reported that the man's nervous system was much affected, and that loss of memory and partial aphasia were especially noticeable. Dr. Jewell regarded the disability as permanent.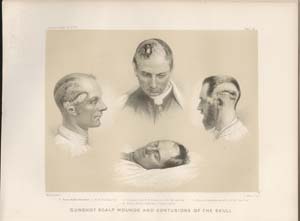 PLATE III. GUNSHOT SCALP WOUNDS AND CONTUSIONS OF THE SKULL. 3. Private Pembroke Scott, Co. D, 198 Penna. Vols.