Title: Shay, G. A.
Source text: The Medical and Surgical History of the War of the Rebellion. (1861-65.), Part 2, Volume 2 (Washington, DC: Government Printing Office, 1876), 45.
Civil War Washington ID: med.d2e31564
TEI/XML: med.d2e31564.xml
CASE 182.—Corporal G. A. Shay, Co. L, 1st Maine Cavalry, aged 29 years, received a shot wound of the left side, in an engagement on the Boydton Plank Road, October 27, 1864. He was taken to the field hospital of the Cavalry Corps, where simple dressings were applied. Both openings had closed by December 16, 1864, and he was sent to Washington and placed in Lincoln Hospital. During the journey to Washington one of the wounds reopened, but cicatrized again a few days after his arrival at the hospital. He was furloughed February 20, 1865, and returned to duty March 27th; but, on May 3d, was admitted to the Cavalry Corps Hospital on account of an "old gunshot wound." On May 7th, he was transferred to Carver Hospital, and, on the 27th, to Cony Hospital, Augusta, whence he was discharged from service on July 10, 1865. In a letter dated June 12, 1865, Surgeon George Derby, U. S. A., says: "The ball entered at the edge of the last rib of left side, and came out within two inches of the spinal column, left side, passing through the stomach. Food passed out of both openings, at different times, during six weeks." Examiner James B. Bell reports, August 21, 1865, "the ball passed through the lower part of the left chest. The chest is weak and the wound imperfectly healed."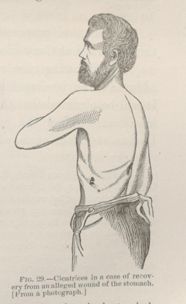 FIG. 29.—Cicatrices in a case of recovery from an alleged wound of the stomach. [From a photograph.]