Title: Nash, J.
Source text: The Medical and Surgical History of the War of the Rebellion. (1861-65.), Part 3, Volume 2 (Washington, DC: Government Printing Office, 1883), 224, 288.
Civil War Washington ID: med.d2e12417
TEI/XML: med.d2e12417.xml
CASE 466.—Private J. Nash, Co. G, 143d Pennsylvania, aged 21 years, was wounded at North Anna, May 22, 1864. He was admitted to the field hospital of the 4th division, Fifth Corps, where Surgeon C. W. Chamberlain, U. S. V., recorded: "Severe shot wound of right knee joint by musket ball." From the field hospital the wounded man was conveyed to Port Royal, and thence by steamer to Washington. Surgeon D. W. Bliss, U. S. V., reported that "the patient entered Armory Square Hospital May 29th, having undergone circular amputation of wounded limb at the lower third of the thigh the day previous to his admission, while on board of the hospital transport." On July 22d, the patient left for his home on furlough, whence he returned several months afterwards, and subsequently he was transferred to Judiciary Square Hospital. Surgeon E. Griswold, U. S. V., in charge of the latter, reported that the presence of necrosed bone in the stump having been indicated by suppuration, a tubular sequestrum, eight and three-fourths inches long, was removed on April 9, 1865, by Acting Assistant Surgeon F. H. Hill. On June 22, 1865, the patient was discharged from service and pensioned, having been previously supplied with an artificial limb by the Jewett Patent Leg Company of Washington, D. C. His pension was paid March 4, 1879. The sequestrum (Cat. Surg. Sect., 1866, p. 308, Spec. 144) is shown in FIG. 2 of PLATE LXIX, opposite p. 224.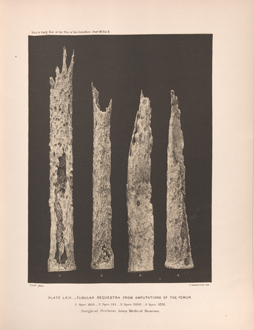 PLATE LXIX. __ TUBULAR SEQUESTRA FROM AMPUTATIONS OF THE FEMUR. 2. Spec. 144. Surgical Section, Army Medical Museum.