Title: E——, John
Source text: Surgeon General Joseph K. Barnes, United States Army, The Medical and Surgical History of the War of the Rebellion. (1861–65.), Part 1, Volume 2 (Washington, D.C.: Government Printing Office, 1870), 444.
Civil War Washington ID: med.d1e18873
TEI/XML: med.d1e18873.xml
CASE.—Corporal John E——, Co. M, 14th New York Heavy Artillery, being wounded in front of Petersburg, on July 30, 1864, was sent to Washington, and admitted to Douglas Hospital on August 3d, with peritonitis and complete paraplegia. He died on the same day. The autopsy revealed the passage of the bullet into the abdominal cavity through the spinal canal, and laceration of the liver. The pathological specimen was contributed to the Army Medical Museum by Assistant Surgeon W. Thomson, U. S. A. It is figured in the adjoining wood-cut (FIG. 196).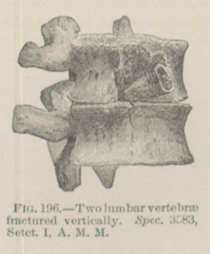 FIG. 196.—Two lumbar vertebræ fractured vertically. Spec. 3583, Setct​. I, A. M. M.