Title: Corson, George E.
Source text: The Medical and Surgical History of the War of the Rebellion. (1861-65.), Part 2, Volume 2 (Washington, DC: Government Printing Office, 1876), 213.
Civil War Washington ID: med.d2e31851
TEI/XML: med.d2e31851.xml
CASE 618.—Commissary Sergeant George E. Corson, 1st Battalion, 17th U. S. Infantry, was wounded at the battle of Spottsylvania​, May 12, 1864, by a conoidal musket ball, which entered six inches to the left of the umbilicus, and passed directly backward, fracturing the crest of the ilium. He was taken to the Fifth Corps Hospital, and four days subsequently was sent in an ambulance to Belle Plain, and thence to Washington, where he was admitted to Judiciary Square Hospital. There was no symptom of peritonitis at any time, and the wound gave little trouble, except from the rather copious suppuration attending it. In the latter part of July, 1864, Sergeant Corson was ordered to the headquarters of his regiment, at Fort Preble, Maine. On August 29th, he was discharged from service. On October 10, 1864, he was appointed a hospital steward, and was assigned to clerical duty in the Office of the Surgeon General. In December, 1865, the entrance and exit wounds were still open. From time to time fragments of necrosed bone escaped. It was impossible to pass a probe through the track of the wound without causing pain. There was but slight suppuration. This steward remains on duty in the Surgeon General's Office at this date, August 2, 1873. He now enjoys comparatively good health, and suffers but slight inconvenience from his injury. The appearance of the cicatrices is shown in the right-hand drawing of PLATE V, opposite page 81, ante.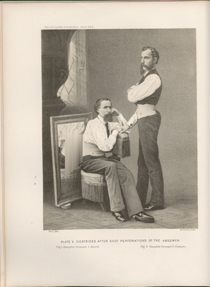 PLATE V. CICATRICES AFTER SHOT PERFORATIONS OF THE ABDOMEN. Fig. 2. Hospital Steward G. Corson.